This article will explain how to install our Farm Scanner.
Important: The scanner must run on a machine that is part of a SharePoint farm. It is recommended to run the scan on a SharePoint web frontend because on a WFE more information e.g. about used webparts is available.
The farm scanner is executed by a PowerShell commandlet and can be downloaded here.
Once the zipped file has downloaded you will need to run the Rencore.FarmAudit.Setup.exe.
Read and accept the End User License Agreement.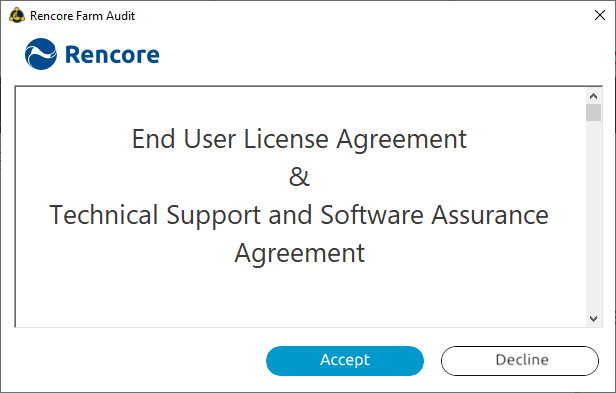 The executable copies the commandlet into the PowerShell modules folder of the current user, if this folder does not exist it will be created.
After running the installation executable the commandlet is ready to be used with PowerShell as follows:
PS C:> Import-Module RencoreFarmAudit.psd1
PS C:> Start-RencoreFarmAudit -OutputFolder c:\pathtoyouroutputfolder
For more information on running the scanner please follow the details on the knowledge base article: How to: Create an Inventory Farm file with Rencore Farm Scanner.
Note: We recommend that you add C:\users\<username>\Documents\WindowsPowerShell\Modules\RencoreFarmAudit to the PSModulePath environment variable.