This article will guide you through how to trial the Rencore Migration tool.
If you would like to trial the Rencore Migration Assessment tool online with demo data, check out our
interactive demo
!
Before you are able to trial the Rencore Migration tool you will need to:
Download the Migration Tool and Scanner
The farm scanner must run on a machine that is part of a SharePoint farm. It is recommended to run the scan on a SharePoint web frontend because on a WFE there is more information about used webparts.
The farm scanner can be downloaded
here
.
Launch and configure the Rencore.FarmScan.Client.exe on your SharePoint farm
Once the .exe is on one of the SharePoint Farm Machines you will need to run the .exe.
On the first screen as shown below, please read the End-User License Agreement. Once happy to continue, click the "Accept" button.
Next, you will see the configurations for the Farm Scanner. Here you can specify one Content Database to be analyzed, the Output Folder location, and Temp Folder Location.
To edit any of the configurations please click the "Change" button, and select the desired content database or folder location.
Once you are happy with the configurations, select "Test scan for 10 site collections" at the bottom and click "Start Scan".
A Confirmation screen will appear confirming that a test scan will be completed and only 10 random site collections will be scanned.
A progress screen will appear.
Copy the trial farm inventory file to your desktop machine
Once the scan has completed you will be left with a confirmation screen and the option to Open the output folder.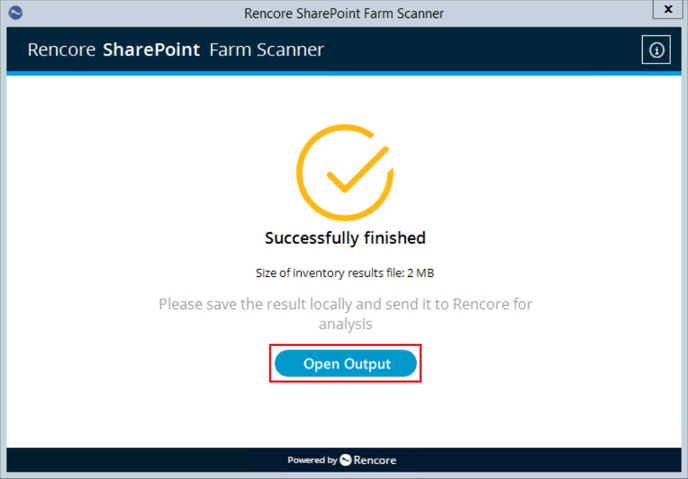 Click on the button and copy the .spinventory file to the desktop machine where you will install our Migration tool and perform the analysis.

Install Rencore Migration Tool
On your desktop machine, install the Rencore Migration tool, using the Rencore.Migration.Setup.exe that you can download from here.
For more details on how to install the Migration tool, please follow the guide covered in the Knowledge Base article: How to: Install Rencore Migration.
Analyze the Test Inventory file
With the Migration tool installed on your desktop, you will need to open the application and select the test farm inventory file.
For more details on how to analyze your file, please follow the guide covered in the Knowledge Base article: How to: Analyze in Rencore Migration Tool.
Review the results
Once the analysis has completed you will be able to view the results without having to unlock the report, unlike a full analysis that requires a Migration license.
Click on "Check Results". You will see the reports in the migration tool with the Trial Header:
"The current results is based on a partial farm scan (test scan)! Only a small subset of data is analyzed.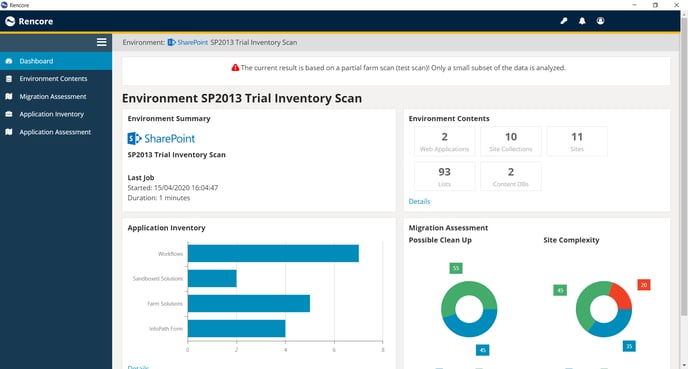 The reports will be limited to 5 farm solutions and 10 sites, all other functions of the tool are the same, as a full analysis.