This article shows the permissions that Rencore Governance Needs.
Rencore Governance needs permissions to your Microsoft 365 tenant in order to operate and collect the data of the services that you would like to govern.
1. Connect to the tenant
First, you need to connect to your Microsoft 365 tenant to allow Rencore Governance to retrieve the metadata and the current consent status.
You can use any ordinary user account with access to the tenant.
No admin permissions are required.
Required permissions
User Impersonation (Delegated).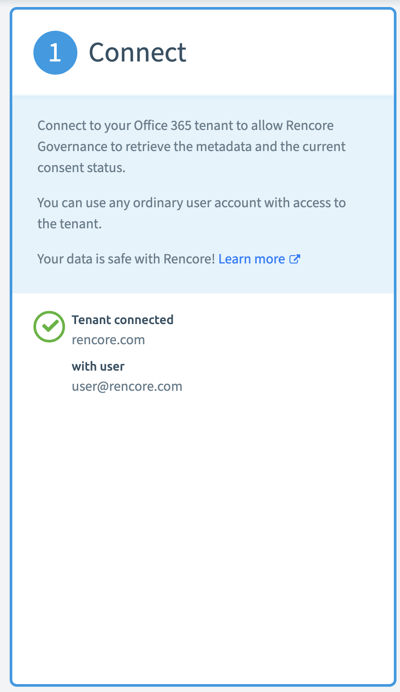 You can learn more about the security of Rencore Governance security overview article.
To get a detailed description of the underlying technical architecture, infrastructure security analysis results from Azure as well as a current application vulnerability assessment report (AVR) generated by a 3rd party (Veracode) please reach out to our sales team.
2. Consent
To allow Rencore Governance to scan your tenant, you need to consent to give it access first.
The app allows you to consent either globally via a single Azure App, or individually by services in order to delegate the consent to various service administrators.
Consent can be given with different accounts than the one used in 1. to connect to the tenant.
2.1 Global Consent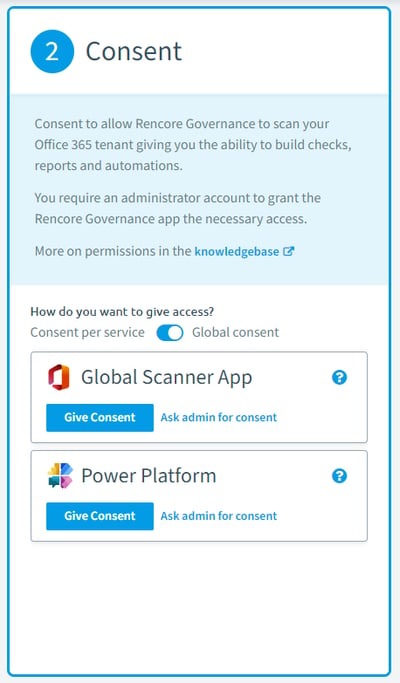 2.2 Consent per Service

3. Ask Admin for Consent
You can request consent to give Rencore Governance access to your tenant from an admin by clicking the link "Ask Admin for consent".
This will open your default email client with an email template containing an anonymous consent link
Hi admin,

Could you please approve Rencore Governance to analyze 'Rencore Governance' of 'rencore.com'?

Kindly review the permission requirements and give consent here:
https://westeurope.app-qa.rencore.com/consent/42024425083/53abe7d0-215f-4564-bd99-d8c7302ad1a3

Thanks!
When the link is clicked, the admin will be redirected to a consent dialog.
The admin does not gain access to Rencore Governance by giving consent to the service in Microsoft 365.
Consent links will expire after 5 days.
4. Permissions
In order to access the data in your services, several permissions is needed. You can learn more about Microsoft Graph permissions here.
Rencore Governance uses several apps to allow global or granular permissions.
4.1 Rencore Governance Scanner (Global Consent)
Microsoft Graph
Office 365 Management API's
SharePoint
Consent will allow Rencore Governance to monitor the following data:
| | |
| --- | --- |
| | Users |
| | Groups |
| | Group Owners |
| | Group Members |
| | Products |
| | User Products |
| | Apps |
| | User apps |
| | Teams |
| | Teams Channels |
| | Teams Owners |
| | Channel Members |
| | Teams Members |
| | Teams Custom Apps |
| | Teams Tabs |
| | Teams Messages |
| | Teams Apps |
| | Teams Audit Log Events |
| | Teams SharePoint Sites |
| | Flow Environments |
| | Flows |
| | Flow Owners |
| | Flow Users |
| | Flow Triggers |
| | Flow Actions |
| | Flow Connections |
| | Flow Runs |
| | SharePoint Site Collections |
| | SharePoint Sites |
| | SharePoint Files |
| | SharePoint File Sharings |
| | OneDrives |
| | OneDrive File Sharings |
4.2 Rencore Governance for Power Platform (Global Consent)
Azure Service Management
4.3 Rencore Governance for Office 365
Microsoft Graph
Read All Groups
Allows the app to read memberships for all groups without a signed-in user. Also allows the app to read calendar, conversations, files, and other group content for all groups.
Permission Type: Application
Read Organization Information
Allows the app to read the organization and related resources, without a signed-in user. Related resources include things like subscribed SKUs and tenant branding information.
Permission Type: Application
Read All User's Full Profiles
Allows the app to read the full set of profile properties, group membership, reports, and managers of other users in your organization, without a signed-in user.
Permission Type: Application
Consent will allow Rencore Governance to monitor the following data:
| | |
| --- | --- |
| | Users |
| | Groups |
| | Group Owners |
| | Group Members |
| | Products |
| | User Products |
| | Apps |
| | User apps |
| | Teams |
| | Teams Channels |
| | Teams Owners |
| | Teams Members |
| | Teams Custom Apps |
| | Teams Tabs |
| | Teams Messages |
| | Teams Apps |
| | Teams Audit Log Events |
| | Teams SharePoint Sites |
| | Flow Environments |
| | Flows |
| | Flow Owners |
| | Flow Users |
| | Flow Triggers |
| | Flow Actions |
| | Flow Connections |
| | Flow Runs |
| | OneDrive Files |
4.4 Rencore Governance for Teams
Microsoft Graph
Read all Channel Messages
Allows the app to read all channel messages in Microsoft Teams, without a signed-in user.
Permission Type: Application
Read All Groups

Allows the app to read memberships for all groups without a signed-in user. Also allows the app to read calendar, conversations, files, and other group content for all groups. Permission Type: Application

Read all Team Members
Allows an app to read a channel's messages in Microsoft Teams, on behalf of the signed-in user.
Permission Type: Application
Consent will allow Rencore Governance to monitor the following data:
| | |
| --- | --- |
| | Channel Members |
| | Teams Messages |
4.5 Rencore Governance for SharePoint
Microsoft Graph
SharePoint
Consent will allow Rencore Governance to monitor the following data:
| | |
| --- | --- |
| | SharePoint Site Collections |
| | SharePoint Sites |
| | SharePoint Files |
4.6 Rencore Governance for OneDrive
Microsoft Graph
Read Files in All Site Collections
Allows the app to read all files in all site collections without a signed-in user.
Permission Type: Application
Read All User's Full Profiles
Allows the app to read the full set of profile properties, group membership, reports, and managers of other users in your organization, without a signed-in user.
Permission Type: Application
| | |
| --- | --- |
| | OneDrives |
| | OneDrive File Sharings |
4.7 Rencore Governance for Power Platform
Azure Service Management
Flow Service
4.8 Rencore Governance for M365 Audit
Microsoft Graph
Read All Audit Log Data
Allows the app to read all audit logs, without a signed-in user.
Permission Type: Application
Read All Usage Reports
Allows an app to read all service usage reports without a signed-in user. Services that provide usage reports include Microsoft 365 and Azure Active Directory.
Permission Type: Application

Read All User's Full Profiles

Allows the app to read the full set of profile properties, group membership, reports, and managers of other users in your organization, without a signed-in user.

Permission Type: Application
Office 365 Management API