This article shows the permissions that Rencore Governance Needs.
Rencore Governance needs permissions to your Microsoft 365 tenant in order to operate and collect the data of the services that you would like to govern.
1. Connect to the tenant
First you need to connect to your Microsoft 365 tenant to allow Rencore Governance to retrieve the metadata and the current consent status.
You can use any ordinary user account with access to the tenant.
No admin permissions are required.
Required permissions
User Impersonation (Delegated).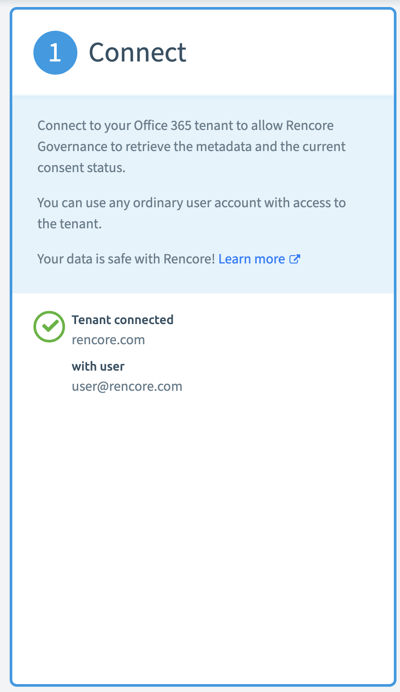 2. Consent
To allow Rencore Governance to scan your tenant, you need to consent giving it access first.
The app allows you to consent either globally via a single Azure App, or individually by services in order to delegate the consent to various service administrators.
2.1 Global Consent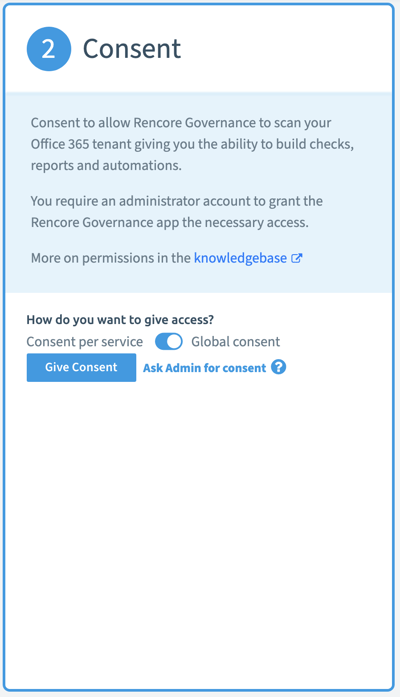 2.2 Consent per Service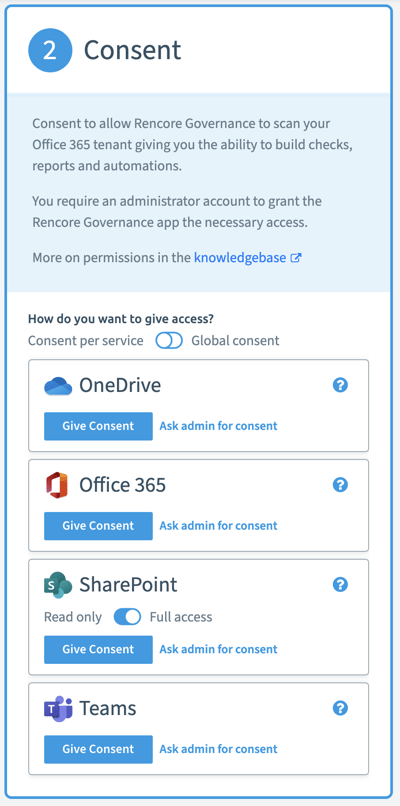 3. Ask Admin for Consent
You can request consent to give Rencore Governance access to your tenant from an admin by clicking the link "Ask Admin for consent".
This will open your default email client with an email template containing a anonymous consent link
Hi admin,

Could you please approve Rencore Governance to analyze 'Rencore Governance' of 'rencore.com'?

Kindly review the permission requirements and give consent here:
https://westeurope.app-qa.rencore.com/consent/42024425083/53abe7d0-215f-4564-bd99-d8c7302ad1a3

Thanks!
When the link is clicked, the admin will be redirected to a consent dialog.
The admin does not gain access to Rencore Governance by giving consent to the service in Microsoft 365.
4. Permissions
In order to access the data in your services several permission are needed. You can learn more about Microsoft Graph permissions here.
Rencore Governance uses several apps to allow global or granular permissions.
4.1 Rencore Governance Scanner (Global Consent)
Read all groups
Allows the app to read memberships for all groups without a signed-in user. Also allows the app to read calendar, conversations, files, and other group content for all groups.
4.2 Rencore Governance for Office 365
4.3 Rencore Governance for Teams